LEARNERS DIRECTLY IMPACTED
Edunova is a Non-Profit Company (NPC) that has been working in the education sector in South Africa with a wide range of funding partners since 2004. Our focus is on the effective use of Information and Communication Technologies (ICTs) in schools, primarily working with schools situated in the disadvantaged communities of South Africa.
is to be an effective catalyst for positive educational change in schools throughout South Africa.
Education is the most powerful weapon which you can use to change the world
Our mission is to work with schools and other learning organisations to help create environments where technology is effectively used to enhance teaching and learning.
Our vision is to help create systems that enable all individuals to become effective learners.
Our values reflect who we are and what we stand for as a company. 
We treat Edunova as if it is our own. We commit until the job is done. We are resolute in the pursuit of improvement. We embrace diversity. We recognise and celebrate contributions and successes. We commit to partnership and teamwork.
We commit to partnership and teamwork
Embrace local talent and nurture young leaders
Develop and support Edunova team members to strive to their potential and believe in their own abilities
Seek innovative answers to the challenges being experienced by schools
Seek support from those who share our values
The principal goal of education is to create people who are capable of doing new things, not simply repeating what other generations have done."
JEAN PIAGET, SWISS PSYCHOLOGIST
Use the QR code below for snap scan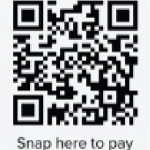 Simply click the donate button to go to our GivenGain page and it will take less than 2 minutes to make a donation.
Bank: ABSA Bank
Account Type: Cheque
Account Name: Edunova
Branch Name: Main Road, Somerset West, Western Cape, 7130
Branch Code: 632005
Account Number: 9144839017
SWIFT Code: ABSA ZAJJ (for international transfers)
Please e-mail (info@edunova.org) your deposit slip to us, indicating which project(s) you are supporting as we would like to acknowledge your generosity. For any other information you may need, please don't hesitate to e-mail us at info@edunova.org
We want to create a new generation of motivated children who are lifelong learners and are able to use technology effectively in achieving this outcome. Please click on a link below to find a way to support our schools